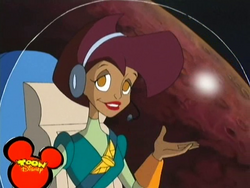 "Really? All you Rangers look alike."

The title of this article is not the individual's real name.
The traffic reporter is a human female.
Physical AppearanceEdit
Tan skinned with brown eyes and hair, the traffic reporter is an attractive young woman. She wears grey pants and a dark green jacket over a lighter green shirt, and an orange belt around her waist. When she's on duty, she dons a headset so she can give traffic updates.
As she only appears briefly, nothing is known about her beyond her occupation.
PersonalityEdit
The traffic reporter is talkative and upbeat, confidently giving out advice to passing commuters and even remaining unfazed when a rogue ship ploughs through traffic.
AbilitiesEdit
She seems to be very familiar with the Galactic Alliance spaceways and suggests alternate routes to drivers when necessary, keeping her cool even when trouble surfaces.
"Good morning! Things are looking great on the Tangean Starflight, but there's a little flowing as you round Tradeworld!"
Her voice actress, Jennifer York, is an Emmy-Award-winning former traffic reporter with KFWB, and was the second ever female traffic reporter to fly in a helicopter.
AppearancesEdit
ReferencesEdit