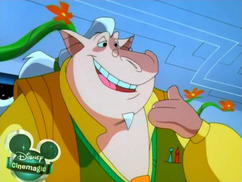 Rhizomians are a peaceful race that live together with plant life.
Biology
Physiology
Rhizomians are gray-brown humanoids with camel-like snouts and large webbed ears. They have a streak of dark or light pigmentation down the center of their face and blue eyes with darker scleras. They grow hair in a variety of colors, usually worn long, and males often have beards. Their hands have two or three nail-less fingers.
Habitat
Under construction.
Psychology
Rhizomians are an extremely peace-loving race, with a strong connection to nature. They often appear placid and easygoing, although they are also capable of fighting if necessary.
Diet
They are known to be vegetarians, eating all things green.
History
Under construction.
Culture
Rhizomians live in a peaceful world, living in harmony with nature. Common activities include gardening[1] and "meditat[ing] for galactic peace"[2].  
Rhizomian technology is "vegegenetic", consisting largely of plants altered to generate electricity, shoot lasers, etc. Even their buildings are giant genetically-engineered plants, and their vehicles are gondolas that move along vines strung between them[3]. Despite their peaceful demeanor, they have also developed vegegenetic security systems and weaponry[4][3].  
Government
Under construction.
Military
Probably none, since they are known for being peaceful.
Notable Rhizomians
Rhizomian Homeworld
Trivia
Under construction.
References
Under construction.
Cite error: <ref> tags exist, but no <references/> tag was found
Community content is available under
CC-BY-SA
unless otherwise noted.