Louis
Biographical Information
---
Occupation
Waiter, Resort Manager
Physical Description
---
---
---
Production Details
---
---
"Ah, forget it, out of my way, sister!"
Louis is a humanoid, squid-like alien.
Physical Appearance
Louis is a member of an unknown race and has orange skin. He has green eyes with and a large, oblong-shaped head fringed by fin-like ears. He is bald and four-fingered, and also wears spectacles that perch above his lips on some sort of snout, though he has no evident nose. He is usually seen dressed in a fancy red vest and slacks, the look complimented with a teal bow tie.
History
When seen in "
Sunquake
", Louis is serving two of the tech experts working at
Compu-Klerm
right before
Shiv Katall
's break-in. He is not seen during the questioning afterwards, therefore it is assumed that he left his job at Compu-Klerm and found a new one at
San de Soleil
.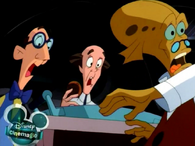 At San de Soleil, Louis worked as one of the resort's managers. When Team Lightyear was in pursuit of a speeding spacecraft that was heading towards the moon resort with no signs of stopping, Buzz called the resort to warn the people to evacuate. Louis picked up the call, but put them on hold twice before XR attempted to negotiate with him. Recognizing XR, Louis angrily listed off several offenses that the robot had committed during his stay on San de Soleil, including skipping out on his bill, enraging the chambermaid, and stealing a bathrobe.

Seeing that XR was getting nowhere with Louis, Mira cut in and told Louis to have everyone evacuate before the speeding spaceship could pulverize San de Soleil. This sends everyone on the moon in a panic, and although Louis tries to keep everyone calm no one pays him any attention. He takes this as a cue to drop his accent and flee along with the rest.
Personality
It is uncertain whether he put Buzz on hold because of his status (seeing as XR is also a Space Ranger, Louis might have based his opinions on Space Rangers based on his experience with XR) or because he had customers that continued interrupting him. Whichever the reason, Louis was nothing but courteous before XR attempted to work his charm. Louis is polite when necessary, but more relaxed, laid-back and rude when not on-duty. Even though he did not resort to badmouthing XR when he listed off his offenses, when fleeing San de Soleil he shoves his way through to escape. Similarly, when Shiv Katall attacked Compu-Klerm, Louis fled the scene.
Quotes
Under construction.
Appearances
References
Community content is available under
CC-BY-SA
unless otherwise noted.