Inside Job
Production Information
Original Airdate
October 6, 2000
Ep. Number
005
Prod. Code
026
Producer(s)

Tad Stones
Mark McCorkle
Bob Schooley

Director(s)
Victor Cook
Story Editor(s)
Gary Sperling
Story by
Writer(s)
Studio
Wang Film Productions Co., Ltd.
Series Continuity
Previous
Little Secrets
Next
NOS-4-A2
Image Gallery (4) | Transcript
"Inside Job" is the fifth overall episode of Buzz Lightyear of Star Command. It is the fifth episode of the first season, and the twenty-sixth episode in production order. It debuted on October 6, 2000.
Overview
When the ambassador of Gargantia announces his intent to join the Galactic Alliance, a few extremists try to stop and assassinate him before doing so and Team Lightyear are assigned to protect him. Worsening matters at hand is a new recruit who makes Booster insecure.
Plot
Buzz is in a small Star Command shuttle being pursued by another spacecraft through an asteroid field. In order to shake it off, he performs a complex spinning maneuver, causing the other shuttle to bump into few asteroids. Buzz emerges from the asteroids, confident that his pursuer couldn't keep up with him after he employed the "Lightyear Spin Cycle". But he is alerted to his assailant's presence by his shuttle's computer, who also informs him that the enemy shuttle has a missile locked upon him. When they fire, Buzz stops his shuttle, makes it drop so that the missiles and the ship fly over him, then rises back up and gets behind the enemy shuttle, preparing to fire.

A bell sounds and the simulator ends, with both shuttles standing out upon a white backdrop. The ships touch down and the rest of Team Lightyear emerges from a side door in the amphitheater. Booster congratulates Buzz for his great flying and on how he had that Academy trainee on the ropes. Buzz admits that it was the trainee who had him on the ropes instead and goes over to meet him eagerly.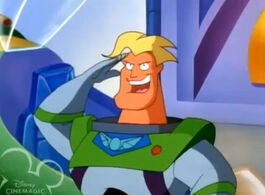 A blond human emerges. Mira is instantly interested whereas XR points out that the trainee isn't that great when you take away his good looks, great piloting skills and upbeat attitude. Buzz catches up to the cadet, who introduces himself as Flash Flemming. But before Flash can say anything else, Booster interrupts them and tries to impress Buzz with a few examples of his own prowess under Buzz's supervision. Buzz agrees with Booster quickly, then asks Flash about his piloting skills and whether he can fly like that beyond training. Flash asks to be given a chance to prove so and Buzz tells him to call him by his first name and not "sir", which further sparks Booster's jealousy. Buzz receives a call from Commander Nebula at that point, telling them to report to the Galactic Alliance Senate Chambers. Booster eagerly grabs Buzz to leave, Mira and XR following, while Booster boasts at them having to take care of real Ranger business. Flash offers Buzz his assistance regardless, but Booster says it's not necessary and reminds him to call him "Ranger Lightyear". Team Lightyear leaves, with Mira waving goodbye before leaving, and Flash blinks.
Characters
Quotes
Under construction.
Trivia
Along with "Conspiracy", this episode was banned following 9/11 due to revolving around terrorism.
Errors
Several of the senators seen in the background at the beginning of the episode are miscolored.
At one point, after the first assassination attempt and when Buzz orders his team to check all around the hotel to find the assassin, Booster's collar rim is temporarily white.
In one shot, the red, yellow, and blue buttons are missing from Buzz's suit. In another shot, the yellow button is missing.
Mira's jetpack button is missing in several scenes.
Buzz's suit has the Saturn ring in several scenes.
In one scene, both Buzz and Mira's waists are white instead of black.
After Ursona Major declares Gargantia's union to the Galactic Alliance, Buzz's waist is white. 
Voice Actors
Production Details
Executive Producers: Tad Stones, Mark McCorkle, Bob Schooley
Director: Victor Cook
Story Editor: Gary Sperling
Written by: Adam Armus, Kay Foster

Voice Casting and Dialogue Director: Jamie Thomason

Storyboard: Sean Bishop, Denise Koyama
Timing Directors: Bob Zamboni, Karen Peterson
Sheet Timing: Dale Case, Bob Zamboni, Burt Medall
Supervising Character Design: Greg Guler
Character Design: Dana Landsberg
Additional Character Design: Kenny Thompkins
Key Location Design: Simon Rodgers, Latchezar Gouchev, Justin Thompson
Prop Design: Chuck Puntuvatana, Tom Foxmarnick
Digital Color Correction: Donald Devine
Scanner: Adam Chase
Associate Producer: Natasha Kopp
Creative Consultant from Pixar: Jeff Pidgeon
Lead Background Paint: Donna Prince
Key Background Stylist: Tom Cain
Color Key Stylist: Marta Goldkowska
Storyboard Revisions: Alan Wright
Additional Storyboard by: Jim Caswell, David M. Fassett, Robert Griffith
Continuity Coordinator: Jungja Kim-wolf

CGI Main Title: Pixar Animation Studios

Music By: Adam Berry
Main Title Theme By: Adam Berry

Animation Production By: Wang Film Productions Co., Ltd.

Animation Director: Tosy Yeh
Layout: Chenny Chen
Animators: Lyndon Jiang, Tasso Lee, Orma Hwang, Jassie Shyong, Arion Chang, Mike Lee, Ken Lai

Supervising Film Editor: John Royer
First Assistant Film Editor: Jennifer Harrison
Pre-Production Dialogue Editor: Monte Bramer
Track Reading: Skip Craig
Post Production Manager: Steven J. Arenas
Post Production Supervisor: Rachel Pusateri
Audio Supervisor: Victor Garcia
Post Production Coordinator: Mark Allen Bollinger

Sound Design: Paca Thomas
Dialogue Editor: Robbi Smith
Music Editor: Marc S. Perlman (M.P.S.E.)
Foley: Phyllis Ginter, Kris Daly
Digital Audio Transfer: J. Lampinen

Re-Recording Mixers: James C. Hodson (C.A.S.), Melissa Ellis, Fil Brown, Ray Leonard, Michael Beiriger
Supervising Music Editor: Dominick Certo
On-Line Editor: Keith Cook

Production Coordinator: Cris Versage
Script Coordinator: Dawn T. Connors
Production Associate: Sean Reed
Production Secretaries: Linda DeLizza, Jessica Farley
Talent Coordinator: David H. Wright III
Production Accountant: Ron J. Earhart

Produced By: Walt Disney Television Animation
Community content is available under
CC-BY-SA
unless otherwise noted.